icon tutorial - textures
I've promised a tutorial for a long loooong time, so here is one for this icon:

Made in Photoshop CS2 but easily transferred to other versions.
This is pretty much as basic as my icons come. The simplest of the simple icons.
First off, I don't crop. Ever. I'm way too fickle to afford to do such a thing ;) I open up a new 100x100 document and pull the pic I want for my icon into that, that way I can play around with it, adjust it until the very end. I also find it easier to find the right placement when I get to try everything out.
examples:





I will go with the last one, because I just like it better ;)
Duplicate layer 1 and set the copy to
soft light
. If necessary adjust the opacity, I'm going with 100% on this one so far. Mostly I also add one more layer set to screen on top of this (on quite a low opacity, just to brighten it up a bit) but since I'll be adding textures here I'll wait until I see how that turns out before doing anything else.
filter>sharpen>sharpen both layers. Most of the time I only sharpen layer1, but it all depends on picture quality and what looks good.

Time to clean the base up a bit. Use the Navigator to zoom in on the icon so you can see exactly what you're doing.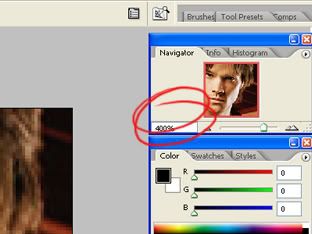 The go to the smudge tool, set it to a small soft brush (I use one set on 3px) and go over the areas that looks pixely or grainy on Layer 1.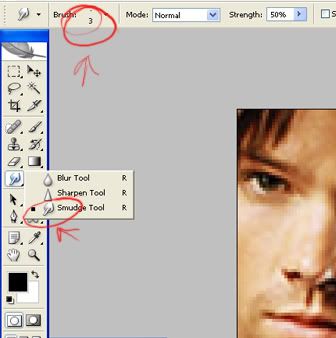 Be careful to follow the lines of the face to not make it look plastic and uhm photoshopped ;) That's also the reason I don't do both layers, some imperfection is good for the end result.

Now for the first texture.

I use this one for practically every icon I make (a bad habit that I need to break at some point, but it is a very useful texture). You can find it
here
in texture set 001 if you want it yourself.
I pull it on top of both layers and set it to
soft light
. For some reason that is the setting I always try first, but sometimes you have to play around a bit, try different ones for different lights and colours.
one text layer on soft light:

two layers, both on soft light:

three layers, all set on soft light:

(And yes, I'm aware that this makes him look like a leper, but the background is pretty! This is why the eraser and masking tools exist.)
four layers, the three previous on soft light 100% as above, the top one on screen 50%:

This is where I bring out the eraser, set to a soft brush (45px) and the flow set to 10%.
I start with the top layer and work my way down until I'm satisfied with getting Jared's face out of the fog and at the same time making it pretty (hopefully).

I like to keep some of the texture of the... texture over the face, because it gives it a nice finish, but not too much.
Second texture is this one

which you can also find
here
in batch 002.
Basically I do the same thing here. Try out the settings and layer orders, duplicate and erase.
One layer of the new texture on soft light 100%, and one on overlay 50%, both on top of the previous ones (erased and ready):

Now I'd like a little more edge to it, so on top of the base layers (Layer1 and the copy) I add an adjustment layer.
layer> new adjustment layer> selective colour> ok> black +15 which gives us this:

I add some text (Sam, because Jared was just too long). The font is
28 days later
at 18pt, with the tracking at 100 and the opacity set to 85% and with a drop shadow effect.

And with that I consider myself done. You can really go on forever, playing with settings, more textures, brushes and shapes, but that's for another tutorial ;) Anyway, this is what my final layer palette looks like: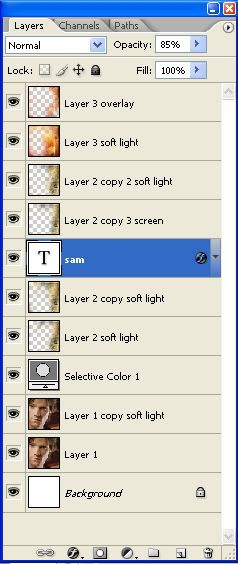 I hope this made any sense what so ever, feel free to ask if anything is unclear, or if you want to see a tutorial for something else! Also, please give me your opinion, is it too basic? Not basic enough? Tell me what you think, it's very easy to forget steps and miss out on explaining things that I take for granted.
Comments {18}